"I have always been passionate about music. From an early age, I was influenced by my grandfather, an accomplished musician, and I showed a great deal of talent. It was his reminder to me to always play to 'touch the heartstrings' that gave Notes of Celebration its tagline. I am so thankful to God that I can build a career with the musical talents he has given me!"
As a teen, I was called upon to play the organ and piano at Sunday services – the music has never stopped (and I still do today!). Throughout the years, I have played for family and friends at their weddings and events and as an accompanist in community theater; I have also taught hundreds of students, both in the public school system and through private piano lessons.
With a deep faith in God and a desire to honor the gifts He has blessed me with, I stepped away from my teaching career and into a full-time professional musical career, launching Notes of Celebration in 2002.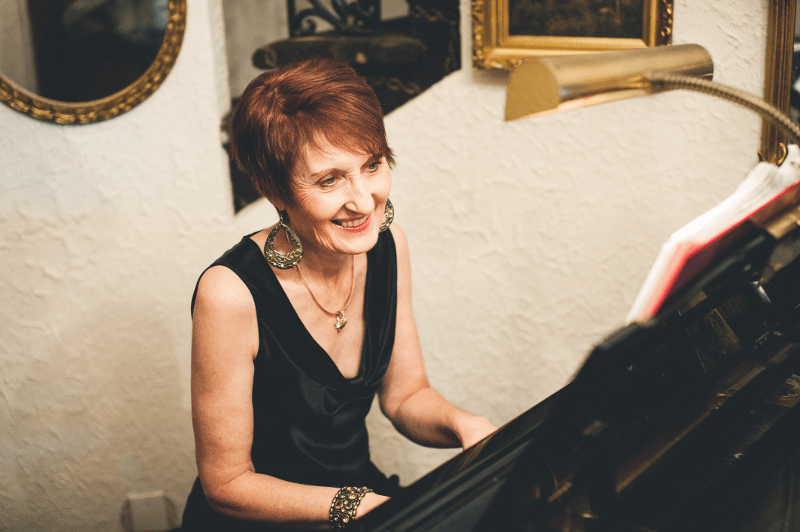 Since starting the business, I've experienced a happiness and satisfaction best expressed as "joy given, joy received." I'm most fulfilled by seeing the joy and peace that music can bring to others and the connection I establish with my audiences and fellow performers. When clients have favorite music in mind for their wedding or event and I'm able to provide it, real magic happens.
I love to travel, hike and attend musical performances with my husband of 49 years.  I also enjoy spending time with my adult children and 9-year-old grandson, Quinton.
The flexibility that my music career offers has also enabled me to make deeper connections with friends and family and to give back some of my time through church ministries.